More than 4 million dogs wind up in shelters and rescue groups each year.
And most of them are over the age of three.
Don't pity a shelter dog, adopt one.
Join the PEDIGREE Adoption Drive to help feed shelter dogs nationwide.Because every dog deserves a healthy and happy life.
---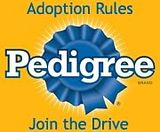 This year the PEDIGREE Adoption Drive is raising awareness for homeless dogs by donating a bowl of food to shelter dogs for everyone who becomes a "Fan" or "Likes" The PEDIGREE Adoption Drive on Facebook. So far more than 1  million bowls have been donated th
e goal is for Pedigree to be able to give a bowl of food to each and everyone of the 4 million dogs in shelters and rescues by the end of the year.
How you can help:
Become a fan.

Head over to Facebook and become a fan today.
Spread the word. Share this post on Twitter or Facebook. Add it to your Digg, Stumbled or Delicious account. Copy, paste and send it out in a email to all your friends. The more people you let know about how easy it is to help feed a shelter dog, the more bags of food Pedigree will donate to shelters across the country.
Write a blog, help a dog. If you have a blog, write a post mentioning the PEDIGREE® Adoption Drive before September 19th, and PEDIGREE® will donate a bag of their new Healthy Longevity Food for Dogs to shelters nationwide.  Add the link to your post to the blog hop at Life with Dogs.