Every home needs a Harvey…
Help him find his home…
Can you help every home find their Harvey?
Find your "Harvey" – visit  Petfinder.com or Adopt-a-Pet to find a list of adoptable pets in your area. Or check out Dogs in Danger, for a list of dogs at risk for euthanasia.
Promote your "Harvey" – Use social media.  Write a blog post. Send a Tweet. Post to Facebook.  Use Save a Dog or Save a Cat on Facebook to virtually foster. And be sure to let everyone know when they've found their forever home.
Volunteer for your "Harvey" - Talk to your local shelter or rescue to see what their needs are. Many shelters need volunteers to walk dogs or play with cats. Or take pictures of adoptable pets to post online. For more ideas, check out this great article on Petfinder.com, "Your Local Shelter Wants You."
To learn more about Harvey, check out his Facebook page. (Even Harvey knows just how important social media is, when you are trying to get your message out there!)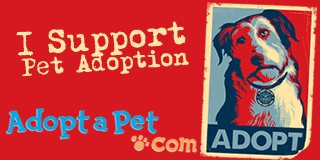 rescue powered by